Access Unlocked Sunday February 12, 2023 During Rihanna's Superbowl performance, it was obvious the superstar was pregnant. It was later confirmed that the thirty-four (34) year-old is expecting her second child with rapper A$AP Rocky.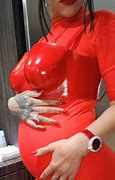 Rihanna was seen cradling her baby bump on Instagram.
Allegedly, Rihanna's father revealed the pair have "gone through" a few son names.
The couple currently has a 9-month-old son.